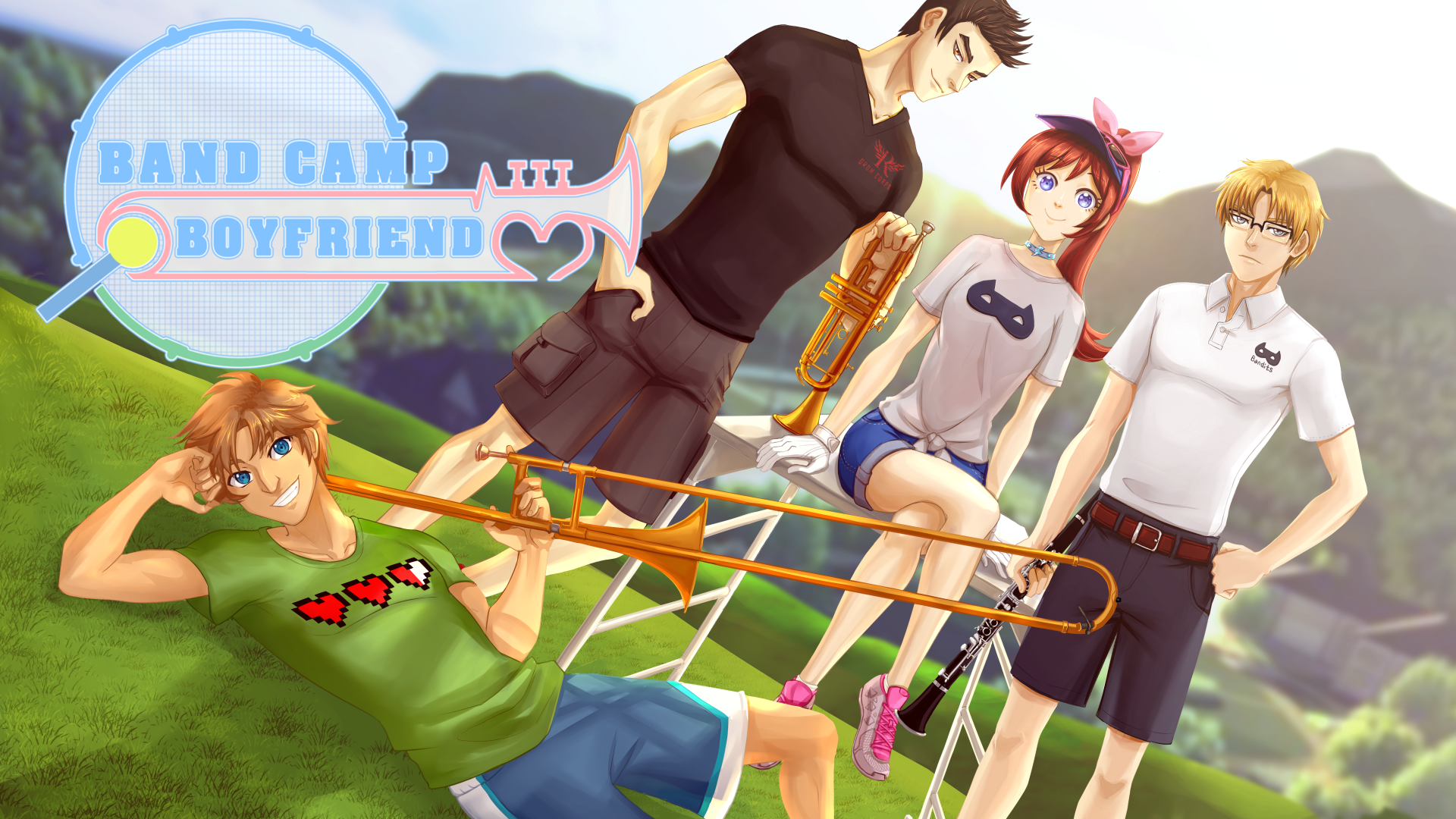 Band Camp Boyfriend
Progress Update - April, 2022
---

April is here! Time for our big End-of-Q1 Progress Update!
I would like to start off by thanking everyone who auditioned for our casting call and congratulating those who made the cut! We had 184 submissions in the end!! We loved hearing all of your spectacular voices and it was a tough decision. In the end, these are the four who will be bringing these characters to life. Once again, congratulations!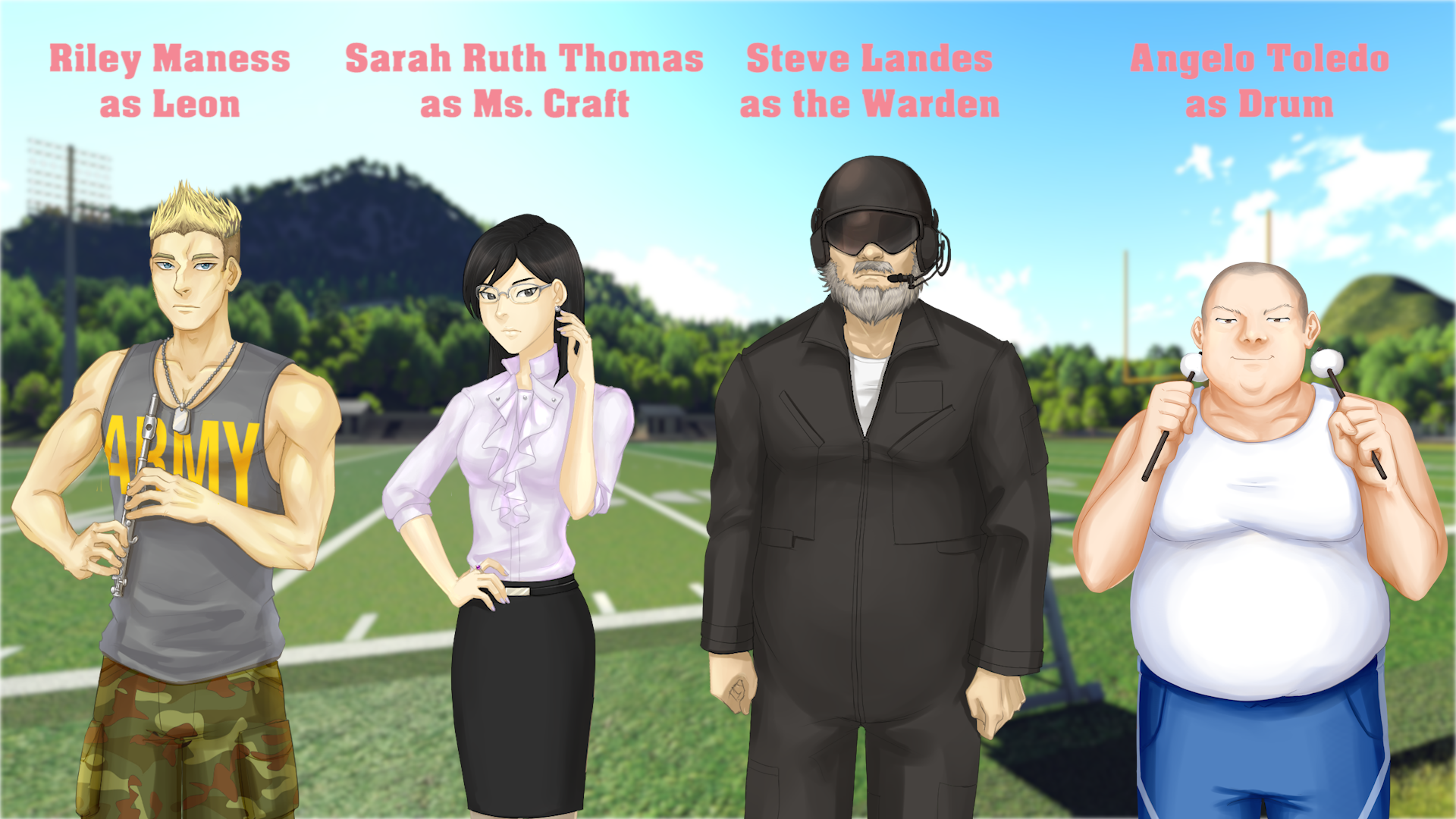 In case you missed it, we now have a TikTok. You may see different types of content on there. We will see how that goes. I don't think I was meant for TikTok, but I will happily answer any questions that come my way on there. Tumblr will always be my home.
Without further ado, let's get started. What were our goals for Q1 and how'd we do?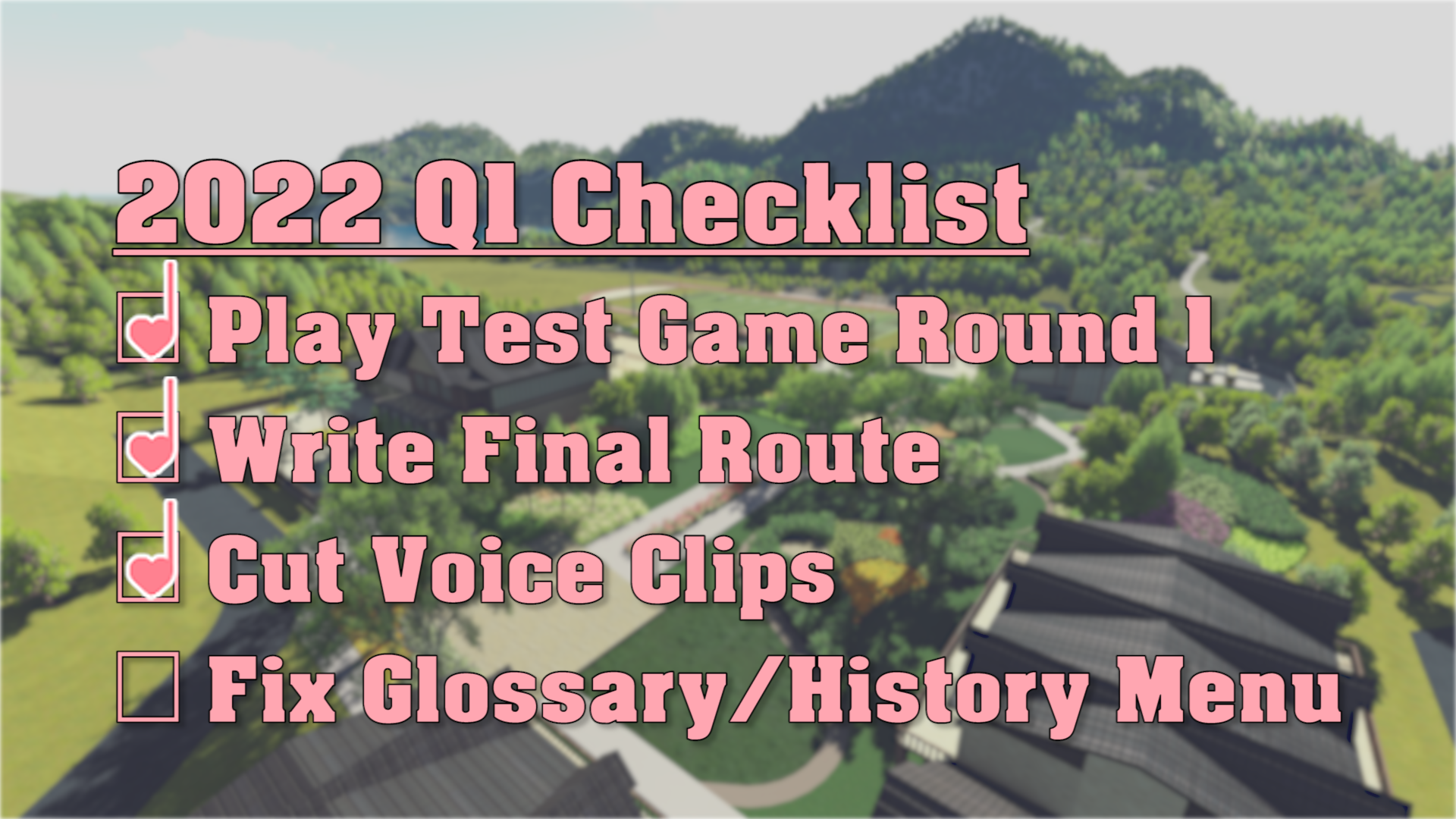 Not bad! I actually went ahead of schedule and the final route is now programmed AND tested as well as written!! The GUI, however, has given us some trouble so we are tabling that for now while we focus on other things. It can be Q3′s problem.
Let's look at where we are percentage-wise...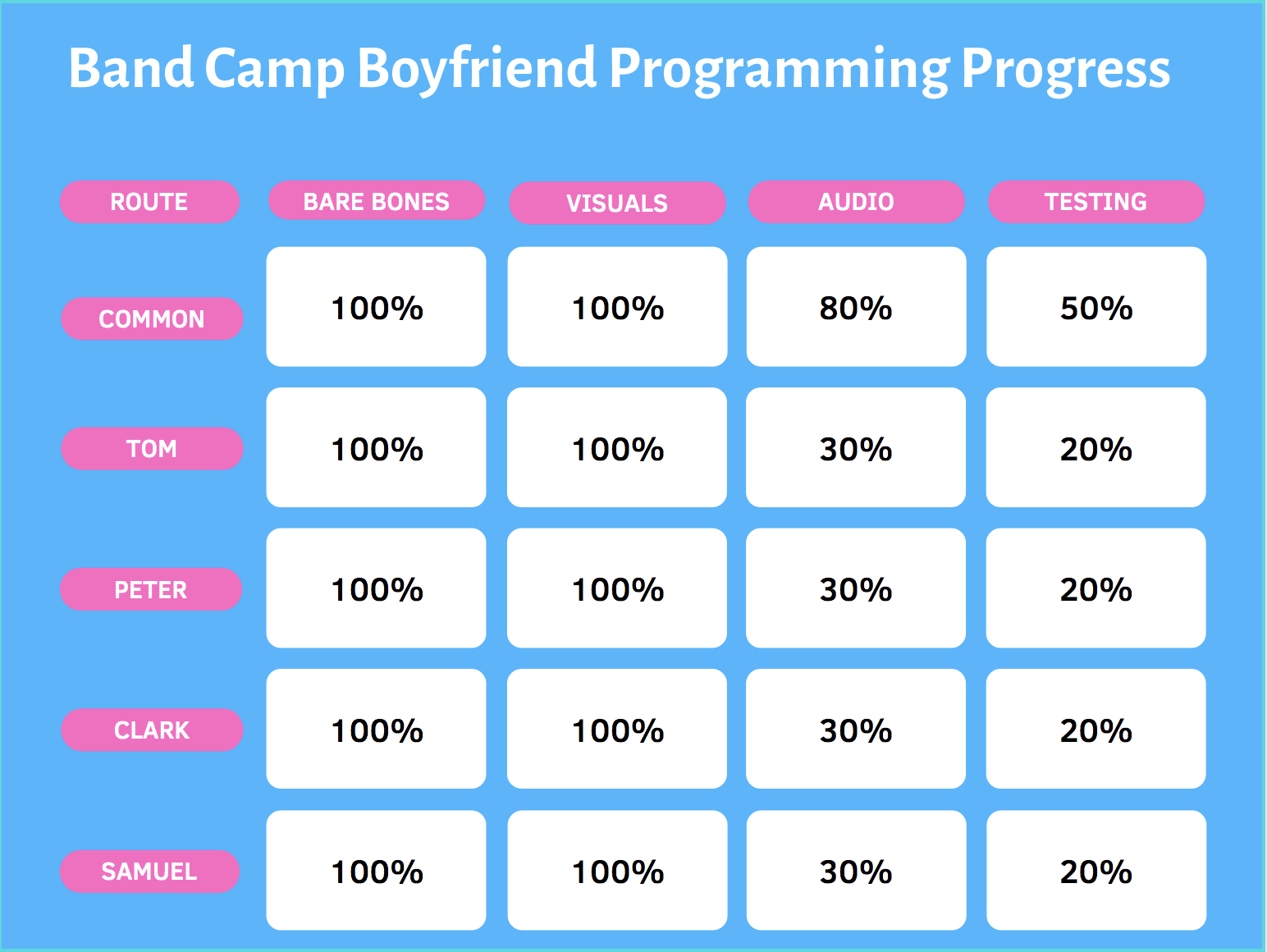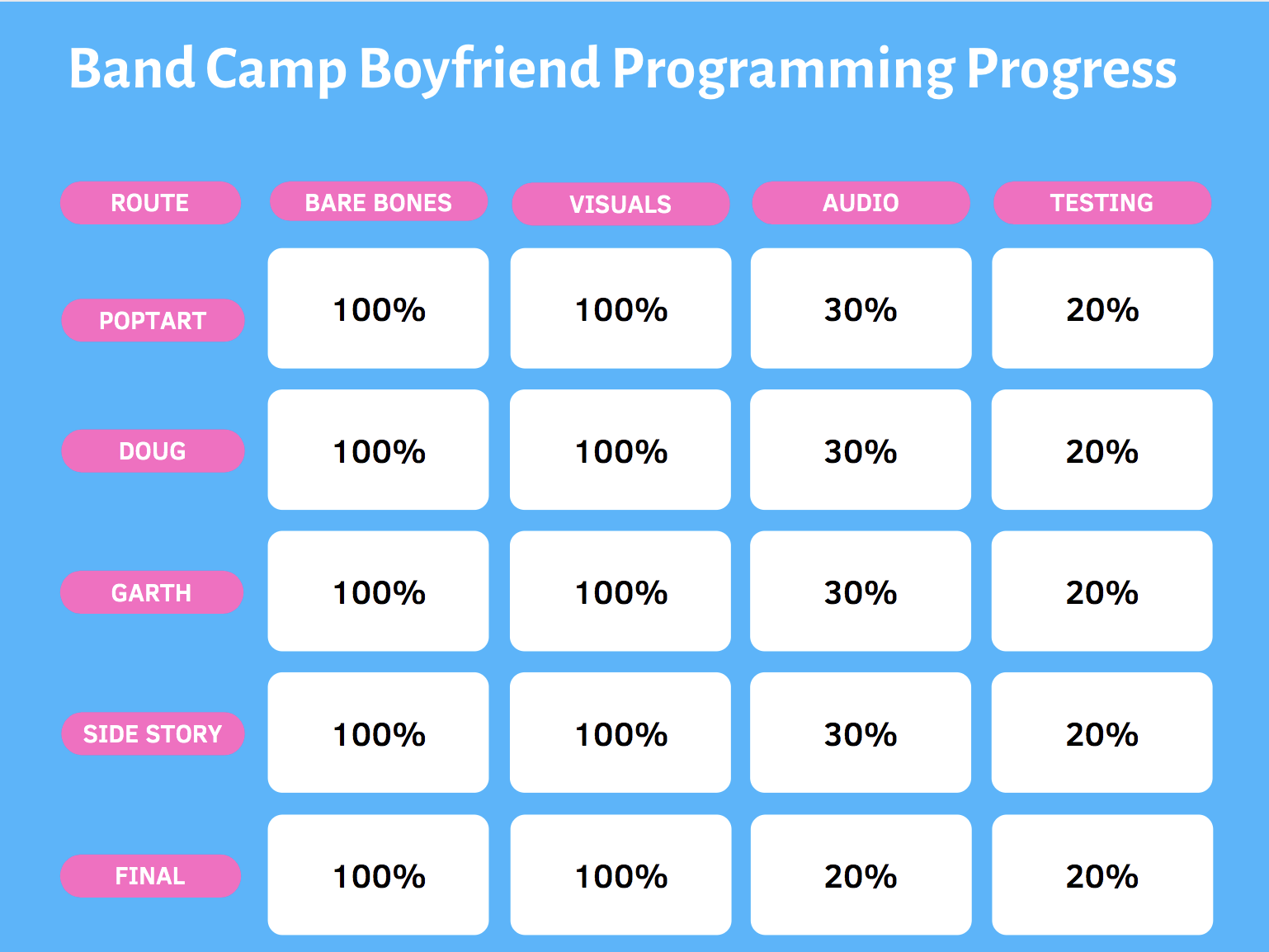 Look at that! Two columns completely checked off! Just thinking about how far we've come in the past few months alone...wild.
Regarding testing, I am upping the routes to 20% complete because even though all of the assets aren't in, we made a ton of fixes and changes with that first round of testing. Woohoo! We are coming right along!
Now let's peer into the future at our 2022 Q2 goals...
Taylor (dat me!):
-Program voice clips
-Create Steam page
-Marketing madness
-Video Editing (Credits, Intro, Trailer, etc.)
Alex:
-Acquire/trim final voice clips from newly cast VAs
-Soundtrack hell

The soundtrack is a big one, so that will stretch throughout the whole year. I look forward to sharing a number of Alex's tracks with you! They're phenomenal. Seriously, they have all of these built-in motifs and symbolism. Pure art.
*gasp* *gasp* Jeez, this is a long update BUT I'M NOT DONE YET.
Keep an eye out for when Band Camp Boyfriend hits Steam! We'll be announcing our release window then. With that, I feel people will be able to take us more seriously. I can corner them in abandoned buildings and ask them to wishlist us or stream us or talk about us on their blogs. I am trying to build up the courage to do so because I hate feeling like I'm bothering people! But this is just what comes with making your game known, I guess. And I really want it to be known!!
Lastly, if you are wondering just how long Band Camp Boyfriend is, it is...drumroll, please...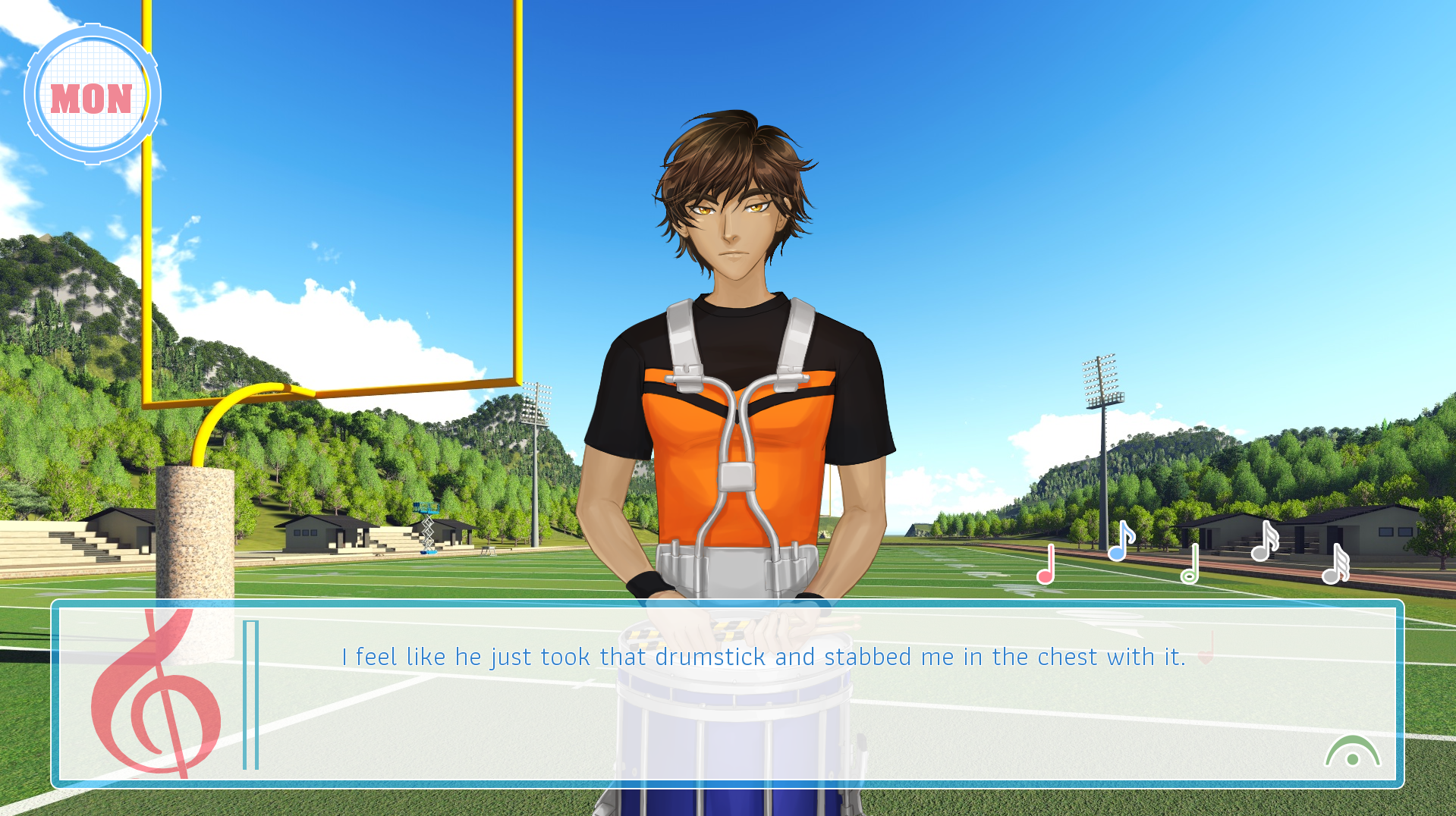 Over 500k words! Which I think amounts to...30 hours of playtime? Probably more since you have to go through the common route a few times over to reach your desired man. I have no concept of time so I am going to ask my 7 deadly beta testers to report back how much time they log playing the game. It will be worth the price of admission, I assure you.
That's it for me! You deserve an award if you read all that. Have a wonderful week and thanks for sticking with us!

If you would like to follow progress more closely, I will drop social media links below. We are most active on Twitter, Tumblr, and Discord.
Comments
Log in with itch.io to leave a comment.
You're doing a great job!!! Wish you luck!!
Just checked in on my itch.io account and saw this!!! I can not wait for it's release, it's going to be awesome! You guys are doing an great job :D
YESS!!! lol I want y'all to be known too ❣ can't wait to wishlist on steam!!